Features
Retractable thermoelectric probe tip for enhanced accuracy that ensures constant pressure between probe and gemstone

Industry's thinnest probe tip (0.6mm) for testing diamonds as small as 0.02ct

Metal alert buzzer to ensure that probe tip is in contact with gemstone during testing

No waiting time between tests

Clear and easy-to-read LED display
Low battery indicator

Low battery consumption

Convenient carrying case included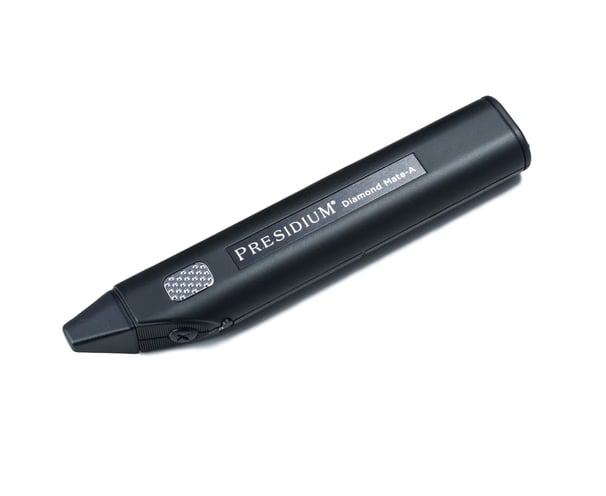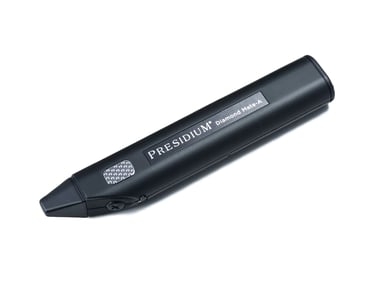 THE PRESIDIUM MULTI TESTER III (PMUT III) IS THE ALL-IN-ONE INSTRUMENT THAT RELIABLY AND ACCURATELY VERIFIES THE AUTHENTICITY OF COLORLESS DIAMONDS AGAINST MOISSANITES AND OTHER DIAMOND SIMULANTS SUCH AS COLORLESS SAPPHIRE, COLORLESS SPINEL, CUBIC ZIRCONIA, ZIRCON, ETC. SHOWCASING A NEW ERGONOMIC DESIGN WITH A RUBBERIZED ANTI-SLIP GRIP AND AN ALL-AROUND DISPLAY FOR EASY READABILITY, PMUT III PROMISES GREATER EASE OF HANDLING AND READING OF RESULTS WHILST TESTING.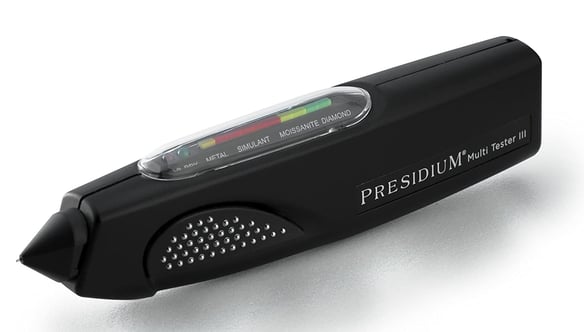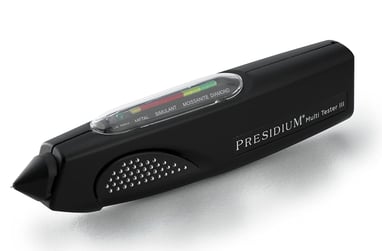 PRESIDIUM ELECTRONIC GEMSTONE GAUGE IS THE INDUSTRY'S FIRST DIGITAL GEMSTONE GAUGE AND REMAINS THE ONLY RELIABLE ONE ABLE TO CONVERT GEMSTONE DIMENSIONS TO ESTIMATED CARAT WEIGHT FOR ROUND BRILLIANT-CUTS.UTILIZING SOLID-STATE ELECTRONICS TO ACCURATELY MEASURE UP TO 1/100MM, THIS GAUGE ALSO FEATURES A CLEAR AND VISIBLE HIGH-TECH DIGITAL DISPLAY FOR EASE OF READING MEASUREMENTS. ITS TOUCH BUTTON ZEROING ALLOWS THE CONVENIENCE OF RESETTING TO ZERO AT ANY MEASUREMENT POINT.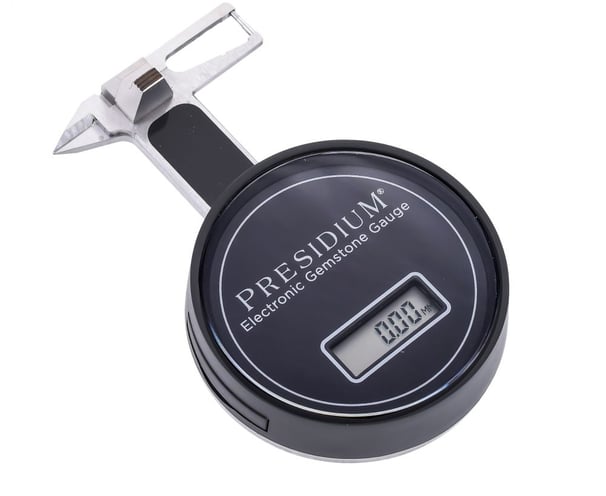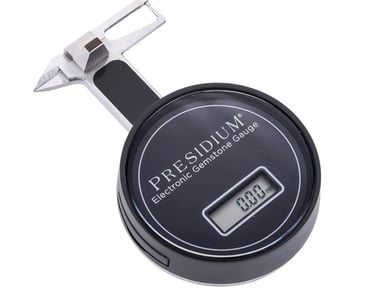 Electronic GemStone Gauge
Synthetic Diamond Screener II
THE SYNTHETIC DIAMOND SCREENER II IS DEVELOPED AS A PORTABLE PRESIDIUM DIAMOND VERIFICATION INSTRUMENT® TO HELP SCREEN OUT TYPE IIA COLORLESS DIAMOND, WHICH IS LIKELY TO BE LABORATORY-GROWN AND CREATED THROUGH CHEMICAL VAPOR DEPOSITION (CVD) OR HIGH PRESSURE HIGH TEMPERATURE (HPHT) SYNTHESES, FROM THE NATURAL TYPE IA COLORLESS DIAMOND.WHEN SUBJECTED TO THIS DEEP UV IRRADIATION, TYPE IA AND TYPE IIA DIAMONDS EACH ABSORB DIFFERENT AMOUNT OF UV LIGHT. TYPE IIA DIAMONDS ALLOW DEEPER UV LIGHT TO PASS THROUGH AND THUS ITS UV LIGHT ABSORPTION ABILITY IS LOW. THIS DIFFERENCE IN THE LIGHT ABSORPTION IS SIGNIFICANT ENOUGH TO AID IN DIFFERENTIATING BETWEEN COLORLESS TYPE IA AND TYPE IIA DIAMONDS.