Legor 2N flash gold bath plating solution deposits a uniform shiny layer in 2N colour, this colour can be described as a pale yellow colour with green undertones and is considered to match 18ct yellow gold in most international markets. This bath plating solution is designed as a decorative flash plate that deposits up to the thickness of 0.2mircon.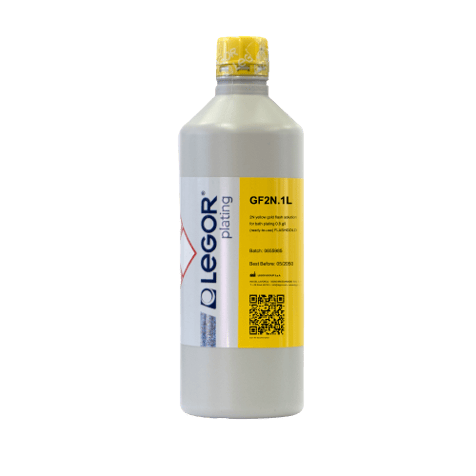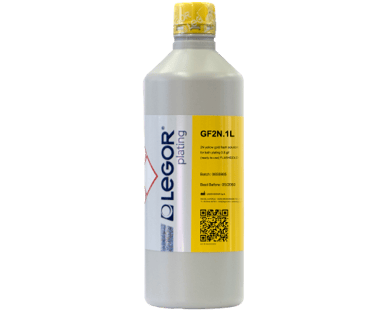 GF3N is a gold electrolyte intended for bath plating, which deposits a uniform, shiny layer in a 3N color. 3N can be described as a rich yellow with green undertones and considered to match 14 kt yellow gold plating in most international markets. GF3N is intended for decorative use therefore has been designed for flash plating permitting a deposition thickness of up to micron. This yellow gold plating solution is Nickel, Lead, and Cadmium free. • 3N or 14 kt yellow gold color • For decorative layers up to 0.2 micron • Good color repeatability • Low gold content • Nickel, lead and cadmium free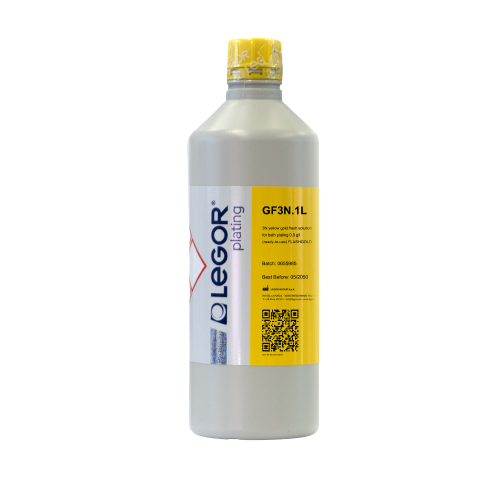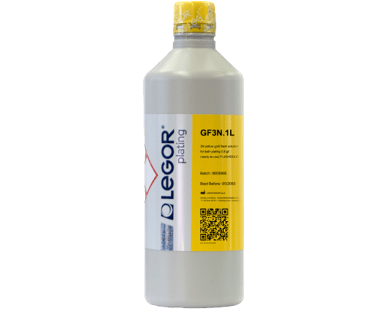 GFPINK is Legor Groups latest installment of red gold solutions developed to meet the plating industries mature keen eye for color. A light pink color with true white undertones, presenting a distinctive pink finish. Given that the final layer is 20KT gold in title, the layer is also more tarnish resistant when compared to the common 18KT gold titled solutions found on the market.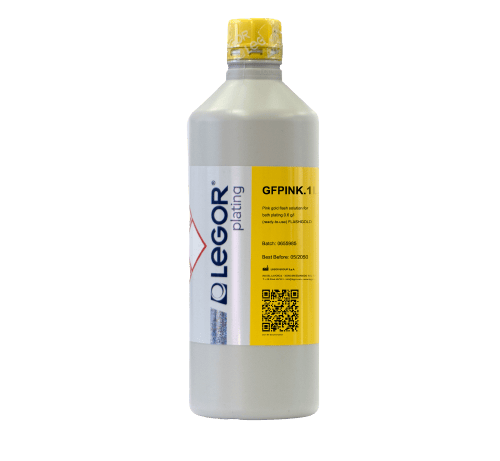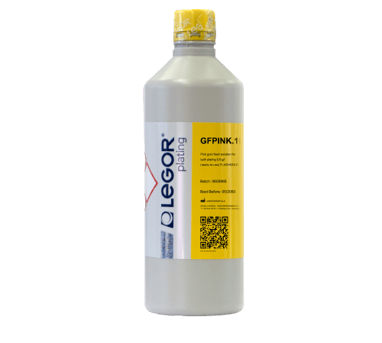 GFRED-ECO is a mild alkaline flash gold plating electrolyte that deposits a uniform, bright layer in red gold. The final color produced can be considered a high- end fashion red gold color while corresponding to the normalized NIHS standard 6N gold. Though the solution is a mild alkaline formula, it functions without the help of potassium cyanide, therefore there are no free cyanides in the solution. This makes for a safer and non-toxic approach to electroplating. The alloy deposited is more complex than standard red gold plating solutions making GFRED-ECO more resistant to tarnish or oxidization. This red gold plating solution is intended for decorative use as the maximum thickness obtainable is 0.2 micron. This red gold plating solution is Nickel, Lead, and Cadmium free. • Red gold plating solution • Greater tarnish resistance • No free cyanides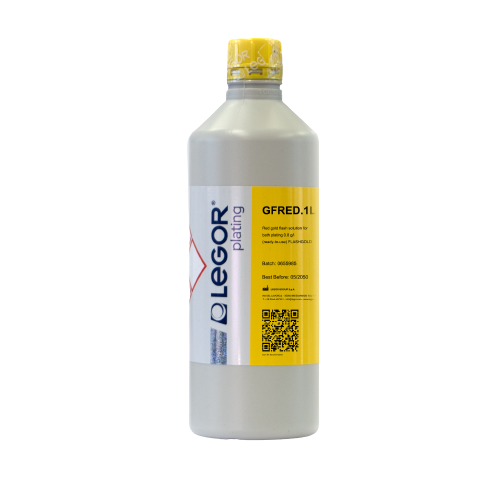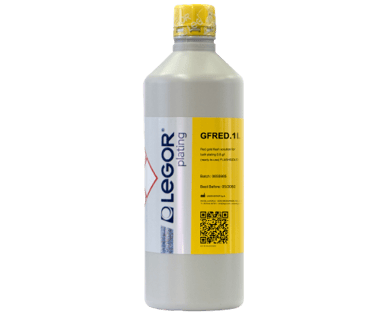 RH2XL is a ready-to-use white rhodium for bath plating. The excessive throwing power of this rhodium plating electrolyte allows for easy distribution in difficult to reach places making it ideal for substrates with a lot of details. This formulation has been developed specifically for items with a lot of stones as in micro -pave or in the case where the stones have been wax-set prior to casting (stone-in-place casting technique). The chemical make-up of this rhodium enables the metal to penetrate below the stone producing a compact white deposit. This deposit grants the stone a more luminous base which allows the stone to appear more brilliant and visually appealing. • The whitest formulation available • Enhances pavé and transparent stones • Ideal for pavé or wax-set designs • Higher throwing power • Thickness up to 0.5 micro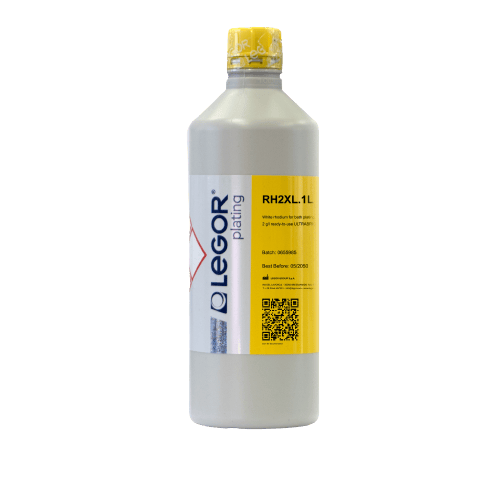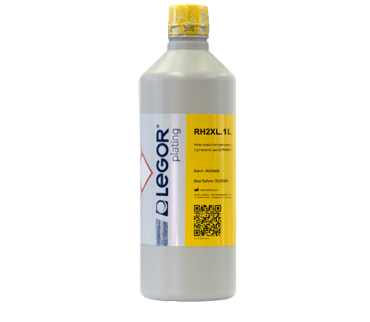 RH2FM is the concentrated version for the M type white rhodium plating solution. To prepare the ready-to-use product, simply pour the 250ml concentrated liquid into 750 ml of pure deionized water. The properties of the so obtained rhodium plating solution grant a higher degree of whiteness due to a more compact deposition when compared to standard rhodium solutions following the same process cycle. These results have been obtained by improving working conditions: the applicable voltage range has been widened, making the process parameters more flexible to guarantee optimal results. This new anti-burn technology eliminates the most common errors such as: surface calculation inaccuracy, prolonged immersion times, bath overheating and excessive voltage. It is also possible to obtain thicknesses which are higher than those generally obtained with a flash application. As consequence of the more brilliant deposition, the average consumption of the rhodium suspended in the electrolyte inclines to be around 10% higher under the same working conditions. • Maximum process flexibility • Superior white color • Ideal for productions whitout object shape consistency • Anti-burn technology